Verizon va lancer son Telephone sous Android avec HTC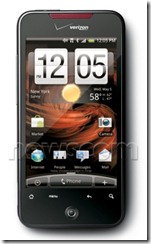 Verizon va lancer en collaboration avec HTC le DROID Incredible disponible dès le 29 avril.
Il sera équipé d'une nouvelle version du HTC Sense.
Pour les caractéristiques c'est dans la suite.
Elles sont en anglais mais largement compréhensible 😀
En Anglais mais largement compréhensible ;)
Additional Key features:
  --  Android 2.1 with HTC Sense experience
  --  1GHz Qualcomm Snapdragon(TM) processor for maximum responsiveness
  --  Friend Stream for unified Flickr, Facebook and Twitter updates
  --  "Leap" view for quick access to all seven home screen panels
  --  8 megapixel camera with dual LED flash for crisp, detailed images
  --  Razor-sharp 3.7 inch WVGA (480x800) AMOLED capacitive touch display
  --  Optical joystick for smooth navigation
  --  Dedicated, touch-sensitive Home, Menu, Back and Search keys
  --  Proximity sensor, light sensor and digital compass
  --  Integrated GPS
  --  Wi-Fi (802.11 b/g)
  --  3.5 mm headset jack
  Price and availability:
  --  DROID Incredible will be available for pre-order online at
      www.verizonwireless.com beginning on April 19 and it will be in
      Verizon Wireless Communications Stores on April 29.  Pricing will be
      $199.99 after a $100 mail-in rebate with a new two-year customer
      agreement.  Customers will receive the rebate in the form of a debit
      card; upon receipt, customers may use the card as cash anywhere debit
      cards are accepted.
  --  DROID Incredible customers will need to subscribe to a Verizon
      Wireless Nationwide Talk and an Email and Web for Smartphone plan. 
      Nationwide Talk plans begin at $39.99 monthly access.  Email and Web
      for Smartphone plans start at $29.99 for unlimited monthly access.
  --  For additional information on Verizon Wireless products and services,
      visit a Verizon Wireless Communications Store, call 1-800-2 JOIN IN or
      go to www.verizonwireless.com.

Share your thoughts, post a comment.